St. Brigid is blocking
The Show is rapidly approaching! Time to get this sucker finished. I started by dunking the front and the back in cold water and making sure they were totally saturated. Then I gently squeezed out a bit of the water before rolling each piece in a towel. Carefully I stepped all over it til the towel was soaked, removing a lot of the water. The pieces were then pinned out to the pattern's measurements. I freaked out a little bit at first because the squares look so big! But when I compared them to Na Craga, they're only slightly bigger. (Which is good, as I have boobs and the Snook doesn't.) So I think that will be okay. It was hard to get a decent shot with the crapping lighting in my office, but I don't think I've lost any stitch definition. As soon as these are dry, I'll do the sleeves. (I ran out of pins!) Then it's time to start sewing up!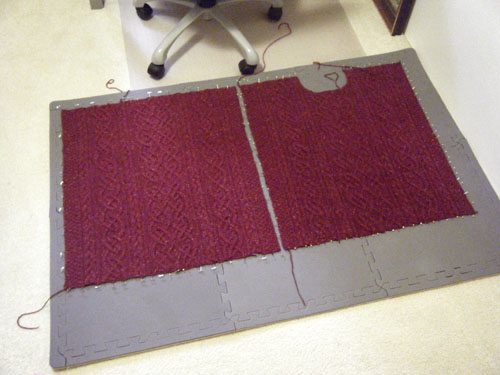 Incidentally, I am LOVING that I had the forethought to use spit-splicing on this thing. I have like five ends to weave in there. That's brilliant.