Monday, March 2, 2015
Shared on Instagram
Shared on Instagram

YouTube Kids

Official YouTube Blog: Introducing the newest member of our family, the YouTube Kids app--available on Google Play and the App Store - Really fantastic idea from Google/YouTube. For the Ron Swanson in your life

The Woodsman Axe table deserves a place in every guy´s mancave » Lost At E Minor: For creative people
Shared on Instagram
Shared on Instagram
Sunday, March 1, 2015
Shared on Instagram

Altruism Autumn

The other day I was arguing with the Snook about something - I can't remember what - but his general homebody-ness and antipathy to the world just made my head explode and I decided that meant it was time for me to do some Good Deeds so as to Contribute to Society. Somehow I ended up at the Clean Up Australia Day website. I found the work site closest to me and signed up. Today was the big day, so I headed over to the Ultimo Community Garden armed with a hat, sunscreen, bottle of water, and pair of thick gloves. (The Garden is lovely, by the way. I'd never seen it before!) Pauline the organiser put me to work on Macarthur Street picking up rubbish with a young guy named Matt. There are several nice little verge gardens filled with agapanthus and bushes, and JERKS LOVE TO THROW RUBBISH IN THEM. So Matt and I worked in the sun for an hour, pulling out old beer bottles and coffee cups and candy bar wrappers and bits of plastic and old takeaway containers and a lot of other icky crap. Oh, and we picked up ABOUT A BILLION CIGARETTE BUTTS. After a short break to rehydrate and reapply sunscreen, we went over to Jones Street to the pedestrian area near MSY to pick up ANOTHER BILLION CIGARETTE BUTTS. A few people talked to us, which was nice. "Oh, is it Clean Up Australia Day already?!" they'd ask. I was tempted to tell them no, I was just on work release from prison. At one point a young guy came past finishing off a can of Coke, and I said loudly, "YOU BETTER NOT THROW THAT IN THE BUSH." He was like, "I wasn't going to!" while ostentatiously putting it in the bin. Harrumph. Anyway, I finished my two hour shift and said goodbye to Pauline and Matt, happily heading home with a feeling of accomplishment... which lasted 2 minutes until I got on Wattle Street and passed my first empty beer bottle and pile of cigarette butts.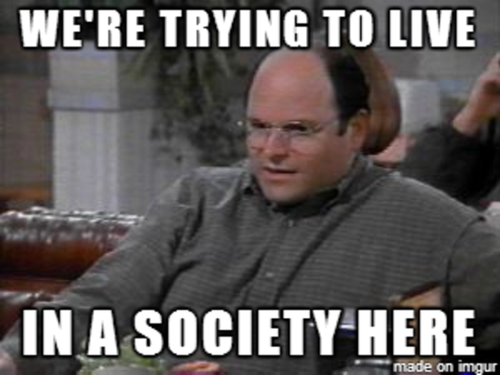 Shared on Instagram
Shared on Instagram
Saturday, February 28, 2015
Reading on Flipboard
Favorited on Twitter Well done, FB.

Facebook reaching out to users who might be suicidal - What a great idea!
Shared on Instagram



Friday, February 27, 2015

Decluttering.

How One New Yorker Lives Comfortably In 90 Square Feet - House Calls - Curbed NY - Spotted on Max's Facebook. My favourite bit:
"I really like getting rid of things," says Mary Helen Rowell, as she stands in the middle of her minimally furnished West Village apartment. "It's my favorite thing."
MINE TOO, MARY HELEN. MINE TOO.
Favorited on Twitter
Shared on Instagram
Thursday, February 26, 2015
Shared on Instagram
Shared on Instagram
Shared on Instagram
Shared on Instagram
Wednesday, February 25, 2015
Shared on Instagram
Shared on Instagram
Shared on Instagram
Shared on Instagram
Shared on Instagram
Shared on Instagram
Shared on Instagram
Shared on Instagram
Shared on Instagram
Shared on Instagram
Shared on Instagram
Shared on Instagram
Reading on Flipboard
Favorited on Twitter
Shared on Instagram
Tuesday, February 24, 2015
Shared on Instagram
Shared on Instagram
Reading on Flipboard
Favorited on Twitter « previous week