Saturday, October 25, 2014

Smocky goodness.

Our latest pattern - The Alice Dress/Top - Ooh. I like this. Stoutness Exercises

The Advanced 7-Minute Workout - NYTimes.com - Bookmarking.
Favorited on Twitter
Reading on Flipboard
Shared on Instagram

*gasp!*

Porn star Lisa Ann on her relationship with Notre Dame wide receiver Justin Brent: - I had two immediate thoughts: 1) Whoa! Gettin' busy is explicitly forbidden in the Student Handbook! He's gonna get in trouble! 2) GOOD FOR HER.

Friday, October 24, 2014
Shared on Instagram
Shared on Instagram
Shared on Instagram
Shared on Instagram
Favorited on Twitter
elmo: Elmo is sure glad Elmo´s name is Elmo, because it´s short and easy to say since Elmo uses Elmo´s name all the time whenever Elmo talks!
jchyip: The horrific trickle down of Asshole culture: Why I've just deleted Uber from my phone http://t.co/xdrekrNHQG
Reading on Flipboard I love you and I like you.

This "Parks And Rec"-Themed Wedding Is The Cutest Thing That's Ever Happened - Bookmarking so we can copy this for our 20th anniversary. WAFFLE CAKE! CENTAUR HAIR!



(And we might also need to dress as Burt Macklin and Janet Snakehole for Halloween someday...)

Thursday, October 23, 2014

Sparking joy, huh.

Kissing Your Socks Goodbye - NYTimes.com - I should buy that book for Mr Snook for Christmas. (He's a pack rat.)
Shared on Instagram
Colin Firth. End of story.
The highs and lows of Pride And Prejudice on the screen · For Our Consideration · The A.V. Club
Shared on Instagram
Favorited on Twitter
Reading on Flipboard This is relevant to my interests.

TopatoCo: Geek Girl Illuminati Shirt - Thanks for the tip, Ben. Ordered! Reminder: call the Red Cross

The man with the golden blood | Mosaic - This is amazing, and it's a timely reminder that I should book in for a donation at the Red Cross. (No, my blood isn't that rare. But it's also slightly rarer in Australia than it was in the US.)

Wednesday, October 22, 2014

Groovy TV stand.

Vintage retro sideboard - 1950's/mid century | Other Furniture | Gumtree Australia Eastern Suburbs - Paddington | 1059972565 - I like it. I've got no room for it, but it's cool.
Shared on Instagram
Reading on Flipboard

Tuesday, October 21, 2014

Happy birthday, Lyn!

Shades of Grey: Celebrating seventy - Just realised that I have finished one other knitting project this year: a garter stitch strip for Lyn's blanket. I'm not 100% certain, but I'm guessing I'm the only one of the participants that used a pair of 12-sided D&D dice to determine the random placement of my stripes. Cockeyed

Downton Abbey Costume - "Please ignore that I look suspiciously similar to the robot that turns into a building in Tom Hanks' Big." HA! I love Rob's costume posts each year. Go Purdue, I guess?

Which Job Is Most Unique to Your State? | Mental Floss - Boilermakers. My Mom and step-dad Joe will be proud. Tsumugi Who and Moneta Dress

Actual finished craft objects! I should probably blog these before I completely forget.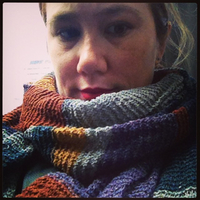 Tsumugi Who
Is this going to be my ONLY knitting finished this year? Only time will tell. At any rate, earlier this year I decided to splurge and buy myself the Tsumugi Who kit from Dairing that I admired at Camp last year. (Note: They have since changed the name to Seta Soie. I don't know why. Supplier change? My kit did come with grey instead of the beige.) I cast on in the winter - probably at the Abernethy knitters retreat? - and I remember questioning the pattern. (Teresa Dair's "patterns" are only patterns in the strictest sense of the word.) I decided to go with garter stitch so it wouldn't curl. And I was off. I went through the entire pattern once and found myself with significant silk left over. So I kept going. Once it got to about 14 feet long, I figured Tom Baker would be happy so I cast off. Then it took me a few more months to finish weaving in the ends. And now it's done. I even managed to wear it a few times before it got too warm. The colours are gorgeous and strangers have complimented me on it, even guessed the reference. That was nice.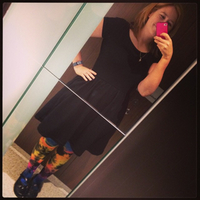 Moneta Dress
I haven't sewn much this year either. But at one point I ordered the Colette Guide to Sewing Knits along with the Moneta dress pattern. That was step one. The history of making this dress is one of diving in before my brain had a chance to object. Step two involved making an excursion to Tessuti's during a sale with some of my (then) co-workers where I picked up a couple different knits to experiment with. This was a black merino double-knit. Step three was me cutting it out many, many weeks ago... and then packing it away in my office. Finally, this past weekend, it occurred to me that if I actually finished the damn thing, that would be one more unique dress for Frocktober. So on Sunday I pulled it out and finished it during a Gilmore Girls marathon on Netflix. I think my seam allowance was inadvertently too wide and my waistband elastic was HELLA WONKY, but to my delight I found that the knit fabric completely hides every flaw. It looks great. I'm very, very happy with this project.
Shared on Instagram

I feel a project coming on.

A complete list of every president's favorite drink | New York Post - I think we need to work our way through this complete list, Mr. Snook. Preferably while playing True American. Woz

Steve Wozniak accepts adjunct professorship at UTS | UTS News Room - Hey, that's cool! I wonder if our team's UTS intern Bec can help me meet him. :) Fitbit, I am disappoint.

This is the Fitbit Surge, a $250 'superwatch' with built-in GPS | The Verge - Yesterday I spoke with two other disenchanted Fitbit customers, upset that they are refusing to integrate with HealthKit. It's really disappointing. I was onboard the Fitbit evangelism love train last year, but I also really, really hate walled gardens. I think they're going to lose more customers than they gain over this.
Shared on Instagram
Reading on Flipboard

Monday, October 20, 2014

Still a little bitter.

Florida State's Jameis Winston Performs Admirably Under Scrutiny, at Least on the Field - NYTimes.com - I found it enormously telling that when Winston and his coach met on the field immediately after the game, the microphones picked up the coach's repeated admonishments: "Be humble. Be HUMBLE." You don't normally have to remind non-jackasses to be humble. Camp Creative

Ten years ago, I went to a five day summer craft camp called Camp Creative with my mother-in-law. I've been on the email newsletter list ever since. I just happened to look at this year's classes... and I'm BLOWN AWAY. So many potential zombie apocalypse training courses!Okay, maybe not that last one. But still. Don't you think the rag-tag bunch of survivors rebuilding humanity might like to listen to some harp music each night? MONA

Tasmanian Devil - The New Yorker - An article about David Walsh, the weird, weird guy behind the creation of the Museum of Old and New Art in Hobart, Tasmania. We're going there next month. (It has a poop machine.) Sniff.

Fake deaths, cheap resurrections, and dealing with real grief · For Our Consideration · The A.V. Club - Surprisingly emotional piece from the AV Club. Frocktober

Just reminding folks that Frocktober isn't just a fun hashtag - it's actually raising money for a really great cause. If you'd like to donate to ovarian cancer research, my fundraiser page is here. Good grief.

Quinnspiracy / What To Expect When You´re Expecting (the internet to ruin your life) - "Try and remember if there's any places you have accounts for that you might have forgotten. For example, they got into a dominos.com account I had made and forgot about to try and send someone a pizza. It can be especially damaging if that account is automatically set up to charge any of your accounts." ARE YOU KIDDING ME?!
Shared on Instagram
Favorited on Twitter
Sunday, October 19, 2014
Shared on Instagram
Reading on Flipboard
Shared on Instagram
previous week