The thirteenth (semi-)annual Web-Goddess Oscar Contest has officially launched! 🎉 And this year you can win everyone's favourite family – the Roses of Schitt's Creek.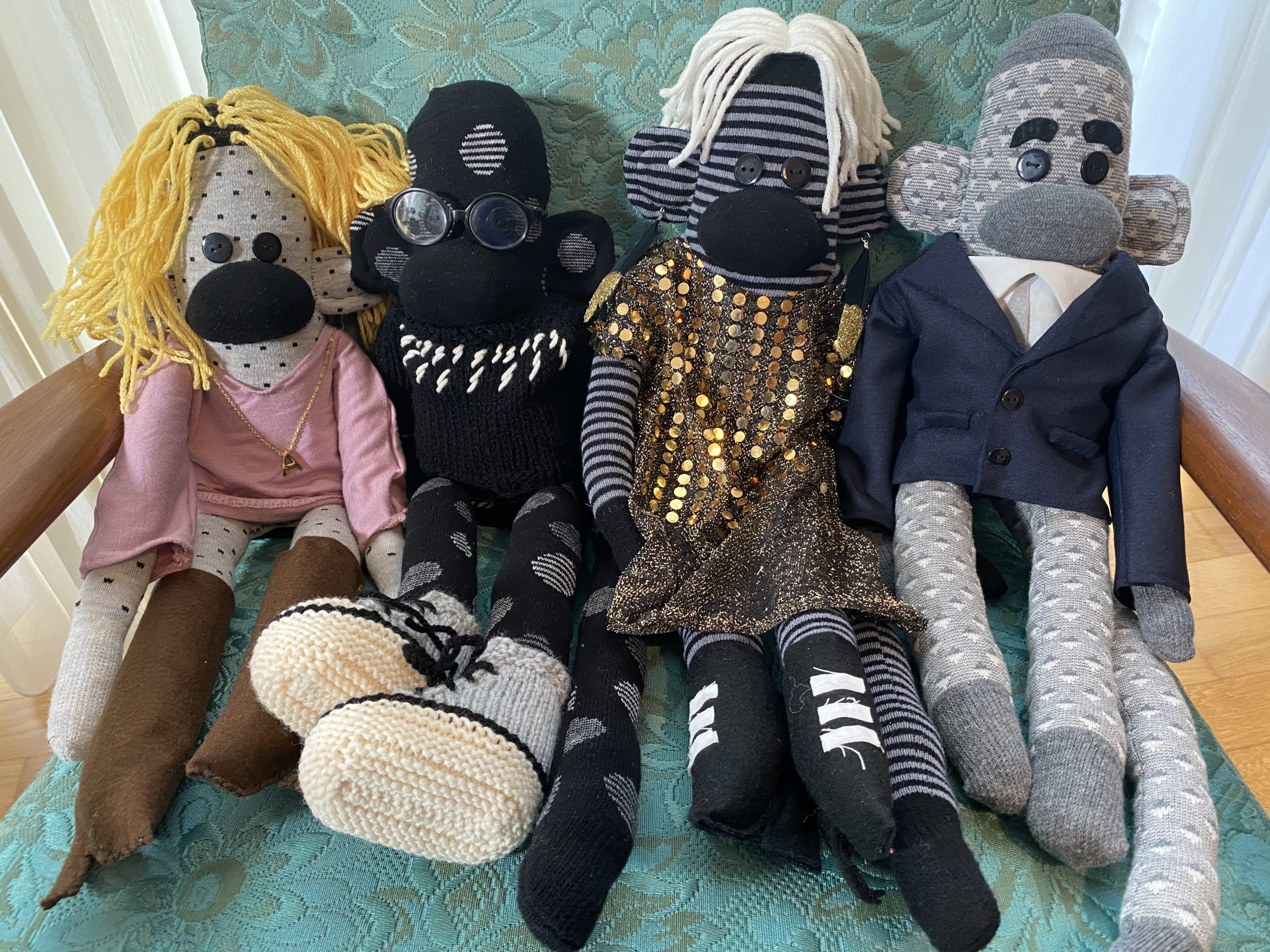 No, I know they don't have anything to do with movies. But honestly, I didn't see many of the nominated films last year, and Schitt's Creek brought me the most joy of pretty much any media. So that's what I went with, and that's what you win if you predict the most Oscar winners!
Go here to read the rules and ENTER! Contest has now closed!

More details on the monkeys:
David Rose's outfit features a custom knit black sweater with embroidered white lightning bolts, as well as custom knit designer sneakers. The sneakers were based off the Little Converse pattern, while the sweater was made up entirely by me. He's also wearing a pair of black framed spectacles (intended for an American Girl doll!).
Alexis Rose's outfit is based off her iconic "A Little Bit Alexis" performance, including a dusty pink minidress and knee-high boots. She's also got her iconic A necklace.
Johnny Rose is wearing a bespoke tailored suit, sewn by me from a pattern intended for American Girl dolls. (No joke – I paid $10 for it. 😳) He's also got felt eyebrows for the perfect Eugene Levy touch.
Moira Rose is wearing an avant garde tunic dress made by me from sheer sequinned fabric and designer high heeled boots. She also has matching feather glitter earrings. And what would Moira be without her girls? You get four different wigs (attached with Velcro) to complete the whole wig wall scene.
If you want Steve, Patrick, or any of the other Schitt's Creek residents to recreate the scene, that's all on you. 😂
So go ahead and enter! The 2021 Academy Awards happen on Sunday, April 25th (California time), which is like 2am here. So I'll cut off entries a few hours beforehand when I go to bed, and you'll have to wait until I get up in the morning to find out who won!
Web-Goddess Oscar Contest Sock Monkey History
Eighteen years ago (good grief!), I thought it would be fun to run a contest and give away a sock monkey. I then kept that up for 10 years running, and you can see the history of my creations below. These days I only do it when the inspiration strikes…
2021 – Schitt's Creek Sock Monkeys
2019 – Freddie Monkcury
2013 – The Avenger Monkeys
2012 – The Monkey with the Dragon Tattoo
2011 – Black Swan and White Swan ballerina monkeys
2010 – Sparkly Emo Vampire Sockmonkey playset
2009 – Batman and Joker monkeys
2008 – Striking Writer Monkey
2007 – Trio of Dream Monkeys
2006 – Gay Sock Monkey Cowboys
2005 – Soctopus
2004 – Plain sockmonkey
2003 – Oscar the Sock Monkey